Gir Cow is an important breed of Indian Dairy cattle breed. As the name suggests, this breed of cattle is a native of the Gir hills and the forests of Kathiawar which includes the Gujarat districts of Amreli, Bhavnagar, Junagadh and Rajkot.
In our country, there are many cattle breeds namely Red Sindhi, Sahiwal, Kankrej and Thar Parkar. These cows fall in the category of dairy (exclusive for milk), dual (milk-and-work-keeping) category and work animals according to their quality. Gir Cow is considered as the best among all other Desi Cows in India.
Gir cows are also called by other names such as Bhadawari, Desan, Gujarati, Kathiawari, Sorthi and Surati. Gir cow is a popular cattle breed even outside India, as they were imported by the United States, Mexico, Venezuela and Brazil.
The Gir cows are well-known for their hardy build and their extreme tolerance to conditions of stress and resistance to various diseases. Gir Bulls are used to pull all kinds of heavy loads and to plough all types of soil.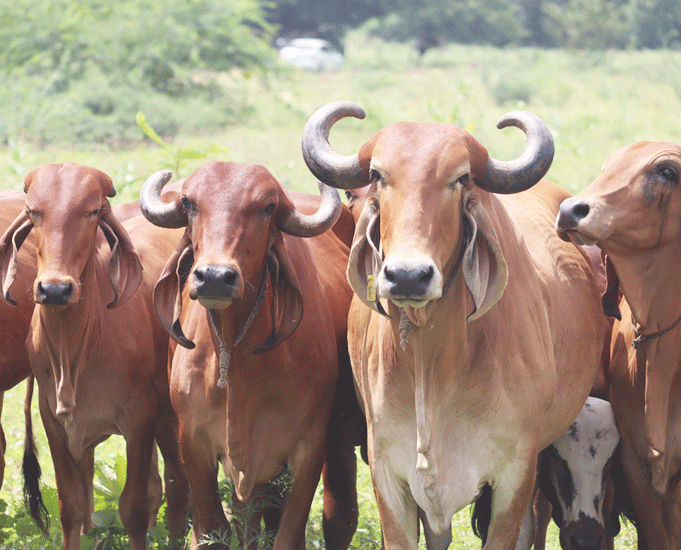 The Gir cows in general are very gentle, polite and love to interact with people. The cattle are very sociable and usually form a close circle at night. They are very protective and sleep with the calves sleeping under their heads.
On an average the Gir cow produces 6 to 10 litres of milk per day. Their milk production is between 1200-1800 kgs per lactation period. With a lifespan of around 12-15 years they usually give birth to 10 to 12 cows during their life.
Physical characteristic of Gir Cows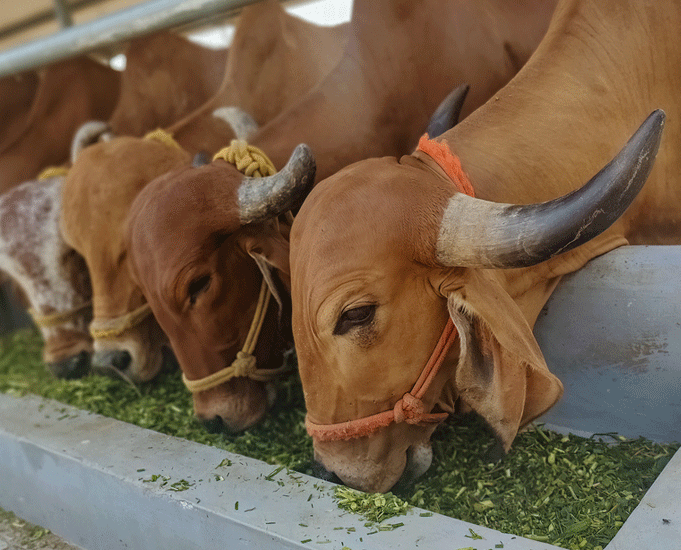 Weighing approximately 550 to 650kgs for bulls and 400 to 475kgs for cows, the gir cows are usually reddish in colour with white spots. The height of the Gir bulls is 1.35m on an average whereas the Gir cow's height is 1.30.
Though they usually have red and white spots, the Gir cattle's colour may varu from pure red to yellowish red to white. Their forehead is prominent, convex and broad like a bony shield. Their ears are long, drooping and shaped like a leaf with a knot on the tip.  Furthermore they have a long tail while the Gir cow's horns are bent and turned backward.
Gir cows have a prominent hip bones and a high hump, which differes from other breeds of cows. Their hump has a specific vein called "Surya Ketu Nadi" which is not found it oter breeds. This Vein helps produce gold salts in the Gir cow's blood when absorbing solar rays. These salts are in turn found in the cow's milk and their bodily fluids.
The milk, curd, butter and ghee of the Gir cow naturally has a golden colour. This is one of the main reason why in Ayurveda, the Gir cow's milk, curd, butter, ghee, urine and dung together is known as 'Panchgavya'. This 'Panchgavya' is very beneficial and helps to fight and cure many diseases. Some the benefits of Surya Ketu nadu cow's products are.
Benefits of A2 Gir Cow Ghee