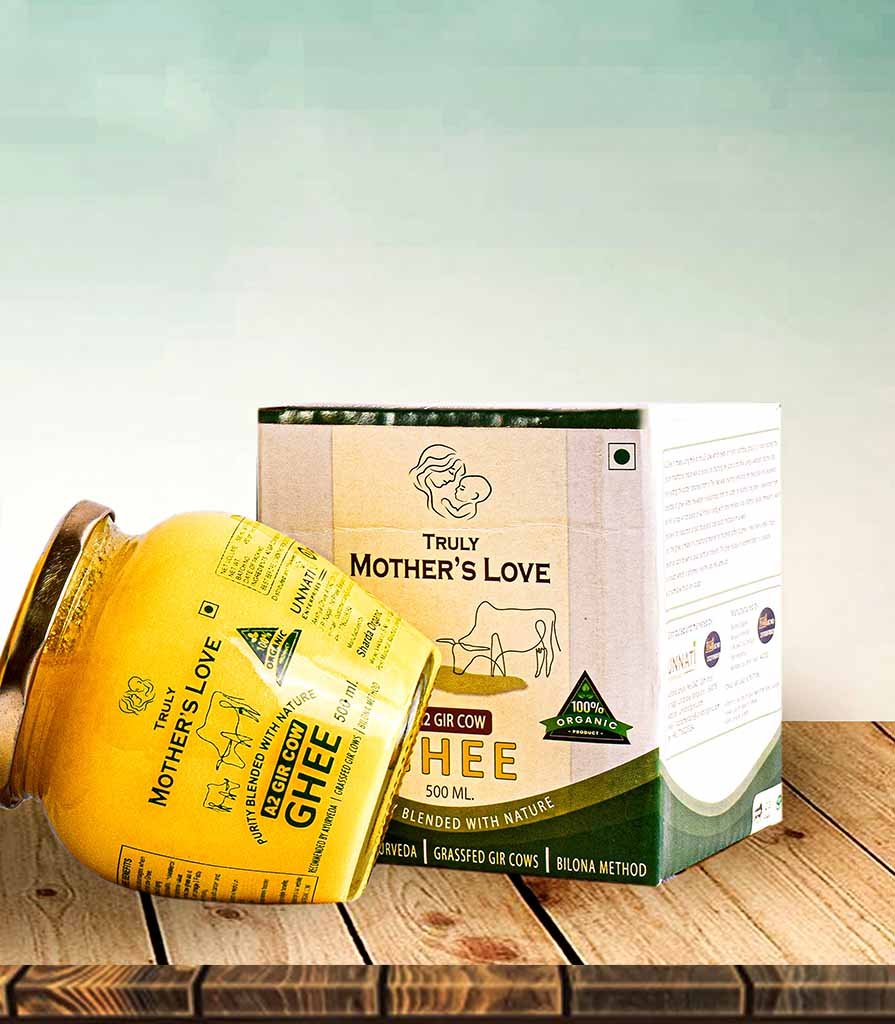 About company
Unnati organic and
Truly Mother's Love
Ghee is one of the most versatile and basic ingredient that is found in every Indian homes. As kids all of us would have experienced our Mother's tender love filled ghee rich snacks and foods that she would have fed us. Keeping the memory and nostalgia alive, Unnati organic  'Truly Mother's love' makes us reminiscence our childhood with its delicious elixir of A2 Gir Cow Ghee.
Hand-churned using traditional Bilona way
Enhanced flavour and Richness
Improved Medicinal and Ayurvedic properties
Our Products
Organic A2 Gir Ghee
Prepared by Bilona method of two-way churning for enhanced medicinal and Ayurvedic properties.
Our products
are made

from high quality A2 Gir Cows
Our Ghee's are of the finest class churned from the milk of Grass-fed A2 Gir Cows. Truly Mother's love A2 Gir Cow Ghee is tenderly hand-churned using the traditional Bilona method. This two way churning method, enhances the flavour of the Ghee and improves its medicinal and Ayurvedic properties.
Purest Ghee of the highest quality with the best source of Vitamin D, Vitamin E and Omega-3 fatty acids.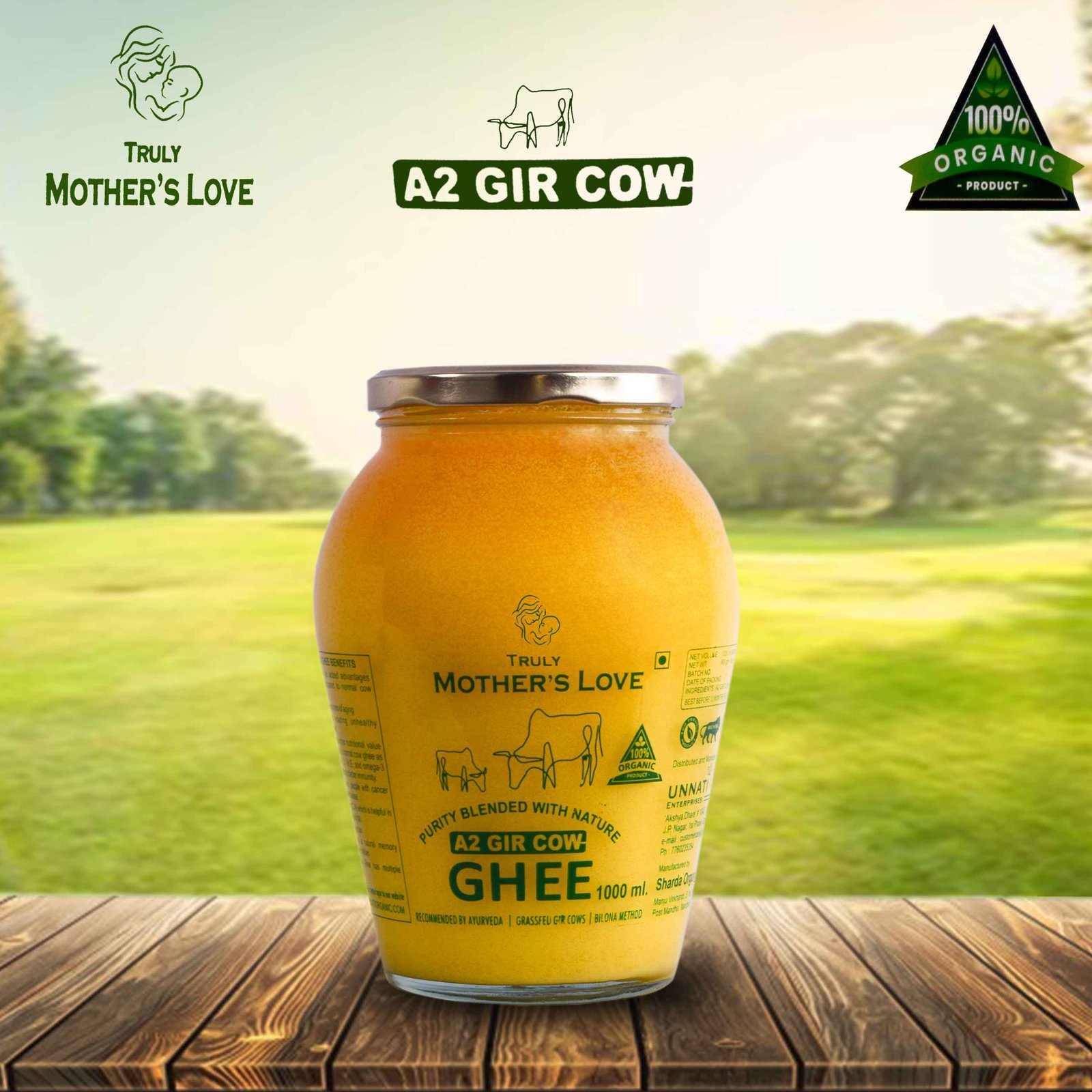 A2 Gir Cow Ghee – 1000ml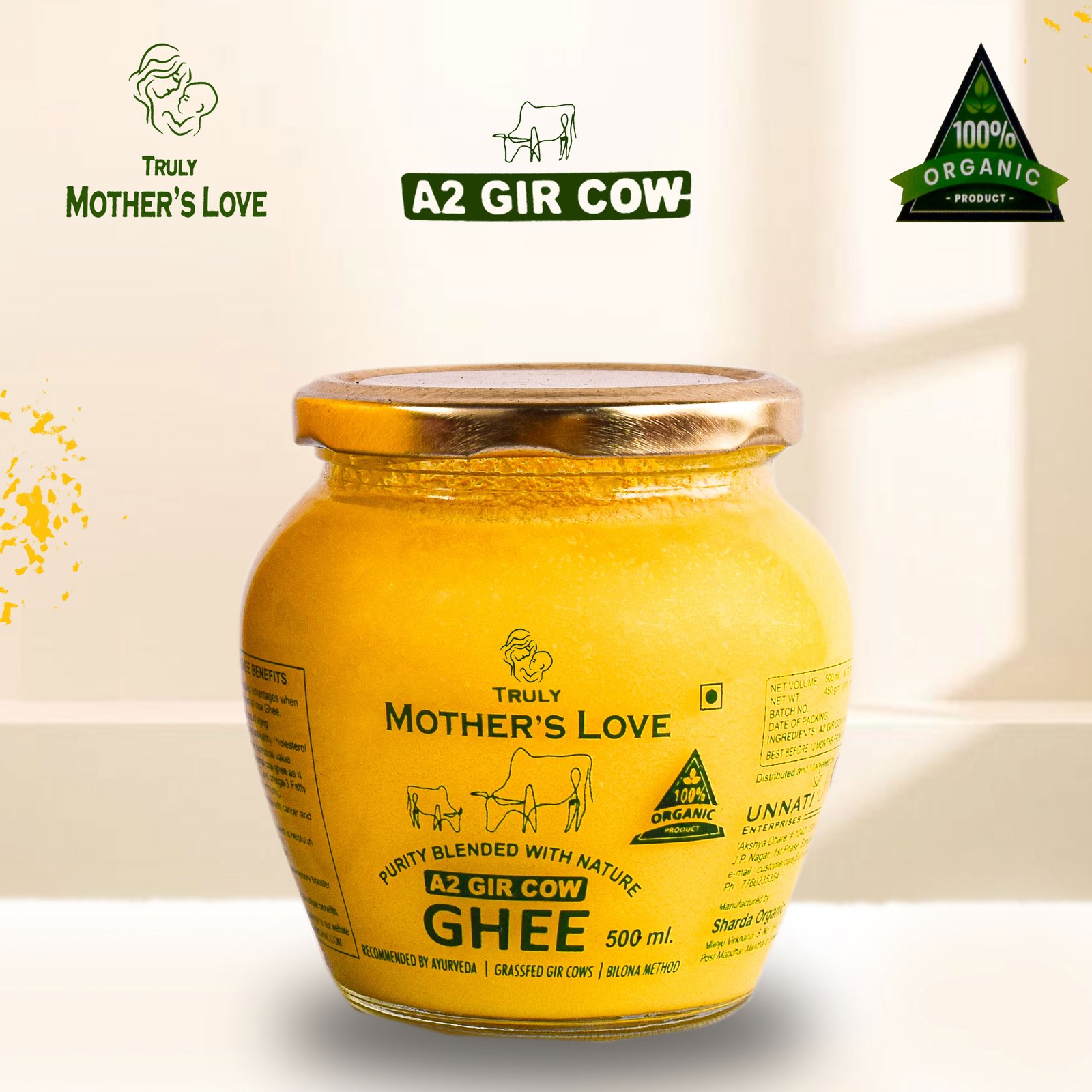 A2 Gir Cow Ghee – 500ml
A2 Gir Cow Ghee – 350ml
Health Benefits


of Bilona Ghee
Bilona Ghee has massive health benefits that are simply amazing.
34000
Hectares of forage land
18195
Liters of milk per month
Testimonials
What Our Clients Say
Great taste and Quality!!! Truly Mother's Love A2 Gir Cow Ghee, really took me back to my childhood and tasted and smelled exactly like my grandmas homemade Ghee. I am going to be keeping it in my Pantry always..

Arun Kumar
Best quality Ghee with a rich and delicious taste. The natural ghee taste brings out the best flavour of my dishes. My kids loved it. I highly recommend it.

Yukesh Raj
Pure and tasty Ghee. Go for it, it's the finest class of ghee that has the distinctive flavour of nature. Am going to stock more of Truly Mother's love A2 Gir cow Ghee at my home.

Nidhish